Kamuela Philharmonic Orchestra Offers Kona a Halloween Treat
A Delightfully Spooky Musical Interlude to Welcome the Weekend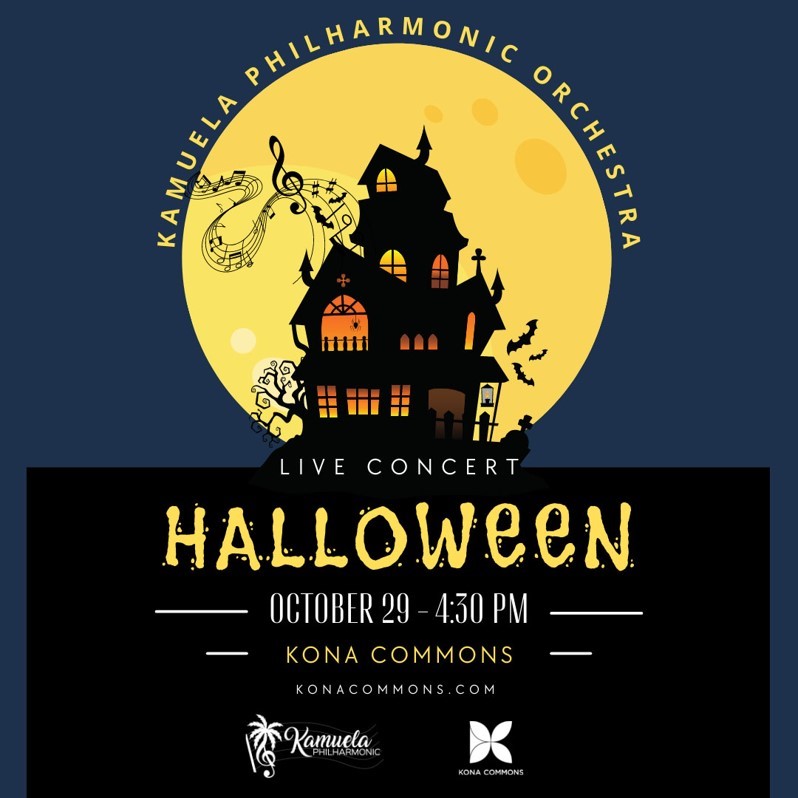 KONA, HAWAI`I (October 18, 2021) – The Kamuela Philharmonic Orchestra will treat listeners to an open-air Halloween concert on Friday, October 29, 4:30 to 5:30 p.m. at Kona Commons Shopping Center.
The concert is free and open to the public, offering a symphonic selection of family music in celebration of Halloween. Ten talented musicians will offer spook-tacular musical selections from The Addams Family, Nightmare Before Christmas, Wicked!, Haunted Carousel, and Phantom of the Opera, along with more classic selections and local favorites.
All COVID-19 protocols will be observed, including face mask wearing, hand sanitization and social distancing. Kona Commons and event participants appreciate your kokua.
About Kamuela Philharmonic Orchestra
The Kamuela Philharmonic Orchestra Society is a nonprofit charity dedicated to bringing live, high-quality orchestral music to audiences on Hawai`i Island. The Kamuela Philharmonic celebrates and promotes the timeless beauty of classical music, as well as the rich cultural and musical traditions of the Hawaiian people.
About Kona Commons
Kona Commons, owned by local partners MacNaughton and Kobayashi Group, offers something for everyone and is home to 22 national and locally owned service amenities, shops, and restaurants. The property regularly holds free, family-friendly community events, including artisan markets, nonprofit partnership events and unique experiences for children. For additional information about Kona Commons visit www.konacommons.com.