'INDULGE THE SENSES' AT 10th BIG ISLAND CHOCOLATE FESTIVAL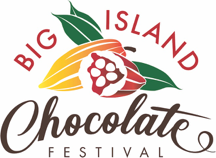 KOHALA COAST, HAWAI'I ISLAND—The delicious flavors and aromas of chocolate will "Indulge the Senses" at the Big Island Chocolate Festival April 28-29 at the Waikoloa Beach Marriott Resort & Spa. The "Indulge the Senses with Chocolate" theme marks the festival's 10th anniversary.
In-person activities include culinary demonstrations for the home cook, cacao growing and processing seminars by industry experts, a new VIP-PLUS pre-gala Sunset & Pupu Pairing and a festive evening gala with culinary booths, chocolate fountain, entertainment, dancing, a silent auction and some surprises! Guests can enjoy unlimited wine, beer and a custom spritzer by Ola Brew, iced tea and coffee.
At the gala, a panel of invited judges and attendees will again vote on best sweet and savory selections while culinary stations will vie in a contest for Best Decorated Booth to this year's sensory theme. A photo booth will provide fun, playful props geared to the "Indulge the Senses" event theme.
"We are returning to our original gala format with chefs staffing sweet and savory culinary booths," says Stephanie Beeby, event chairperson. "This year we are debuting a VIP-PLUS package with entry Saturday night to both a Sunset & Pupu Pairing plus VIP gala section with table seating and exclusive wine and beer bar."
In its 10th year, the celebration of chocolate is presented by the non-profit Kona Cacao Association (KCA). This year's beneficiaries include Hawaii college culinary programs, Hawaii Institute of Pacific Agriculture, Kona Dance & Performing Arts and Keahole Center for Sustainability.
A general admission gala ticket is $99 while a VIP-PLUS ticket is $189. Also available are specially priced event room packages at the Waikoloa Beach Marriott Resort. Educational activities and prices will be announced on the website. All event tickets are sold online and additional tax and ticketing fees apply. Details: https://bigislandchocolatefestival.com
Kona Cacao Association: The mission and goal of KCA is to promote the cacao industry on the Island of Hawai'i by presenting the Big Island Chocolate Festival as an educational and outreach opportunity for local cacao farmers, the hospitality industry and cacao enthusiasts. Visit http://konacacaoassociation.com. @BIChocoFest