Hawaii Coffee Assoc. Hosts In-Person 27th Annual Conference, Trade Show
and 13th Statewide Cupping Competition May 19-21 in Kona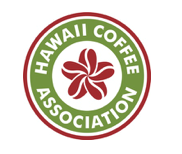 Cupping Competition Entry Deadline April 29
HAWAII—The statewide Hawaii Coffee Association (HCA) presents an action-packed, in-person conference offering a wealth of educational opportunities and competitions headlined by keynote speaker Vern Long of World Coffee Research. Also on tap are two HCA Café Collective Committee's inaugural events: the SigBev Barista Competition and a Seed-to-Brew Roundtable.
The May 19-21 gathering is open to association members and the broader community at the Outrigger Kona Resort & Spa in Keauhou-Kona.
In addition, HCA hosts its 13th annual Statewide Coffee Cupping Competition with winners announced May 20 at the 2022 Annual HCA Conference Cupping Competition Awards Ceremony. Winners will be announced at 3:30 p.m. and include a sampling of the top scoring coffee from each growing region.
Competition coffees will be blindly cupped using the Specialty Coffee Association's scoring system. Qualifying entries will be accepted April 1-29. Pacific Coffee Research will oversee the competition. Complete rules and entry forms may be found on the HCA's website.
Local baristas will vie in the first Café Collective SigBev Competition 6:30 p.m. May 20 at HiCO in Kona. A panel of judges will score beverages featuring local coffees and attendees will have an opportunity to taste them. This event is open to the public; admission is free.
Also new to the conference is the Seed-to-Brew Roundtable. The interactive panel brings together stakeholders representing four major elements of the local coffee chain: producers, processors, roasters and baristas. These industry experts will discuss their roles and answer questions prompted by a moderator. The panel will be followed by an audience Q&A.
Jennifer "Vern" Long will give the conference keynote on "Collaborative Coffee R&D—Working Together to Secure the Future of Coffee in Hawai'i." The CEO of World Coffee Research (WCR), Long brings 25 years of experience in international agricultural research with a focus on smallholders. Long has experience convening industry, government, scientists and farmers to formulate a shared crop research agenda for improving small farm productivity.
"This year's conference features a full lineup of educational opportunities, fellowship and fun," says Chris Manfredi, HCA's executive director and past president. "We've planned interactive workshops on cupping, roasting and field-grafting; plus talks on soil health, coffee origin traceability, on-farm technology and updates on the latest industry research and legislative issues. Attendees will also enjoy a trade show, silent auction and plenty of networking opportunities."
The conference speaker/activity lineup includes:
Thursday, May 19
3:00 Registration Opens
5:00 Cocktail Reception
Friday, May 20
7:30-9 Breakfast & Coffee
8:00-4:30 Silent Auction & Trade Show Open
9-9:15 Message from HCA President Tom Greenwell
9:15-9:45 Executive Director Report
9:45-10:30 Keynote: "Collaborative Coffee R&D—Working Together to Secure the Future of Coffee in Hawai'i
10:30-10:45 Coffee Break
10:45-11:15 HCA Government Affairs Update
10:45-12:00 Café Collective Farm to Cup Roundtable
11:15-12:00 Hawaii Department of Agriculture Update
12:00-1:15 Lunch & Coffee
1:15-2 UH College of Tropical Agriculture and Human Resources Update
1:15-2:45 Pacific Coffee Research Cupping Workshop
2-2:45 US Dept of Agriculture/Pacific Basin Ag Research Center Panel Update
2:45-3:30 Synergistic Hawaii Agriculture Council Update
3:30-4:30 Announcement of Cupping Winners with Tasting
4:30-pau Kona Brewing Company Tour
6:30-pau Café Collective SigBev Competition/HiCO


Saturday, May 21
7:30-9 Breakfast & Coffee
8:00 Silent Auction & Trade Show Opens
9-9:45 Hawaii Agriculture Research Center Update
9-10:30 Coffee Roasting Workshops
9:45-10:30 Soil Health with Melanie Willich, PhD
10:30-10:45 Coffee Break
10:45-11:30 Guest Worker Programs with SESO
11:30-12:45 Lunch & Coffee
12:45-1:30 Traceability News
12:45-Pau Field Grafting on the Lanai
1:30 Silent Auction Closes
1:30-2:45 On-Farm Technology with Fred Cowell
2:45-3:30 Hawaii Farm Bureau/HCA Member Benefits
3:30 Trade Show Closes
3:30-4:30 HCA Elections & Board Meeting
6-10 HCA Annual Dinner
Register for the conference at https://hawaiicoffeeassoc.org/event-4641327. Sponsorship and trade show exhibitor opportunities are available and silent auction donations are welcome.
Find the official rules and required entry form for the Cupping Competition at https://hawaiicoffeeassoc.org/event-4659305.
Mahalo to the 2022 Conference sponsors: State of Hawaii Department of Agriculture, Oritain, Savor Brands, Honolulu Coffee, WECO Optical Sorting, KTA Super Stores, Badge X2 Fungicide/Bactericide, Bad Ass Coffee of Hawaii, RCIS, Nutrien Ag Solutions, Delta Technology Corporation.
The Hawaii Coffee Association's mission is to represent all sectors of the Hawaii coffee industry, including growers, millers, wholesalers, roasters and retailers. The HCA's primary objective is to increase awareness and consumption of Hawaiian coffees. A major component of HCA's work is the continuing education of members and consumers. Learn more about the HCA at http://www.hawaiicoffeeassoc.org/.
Keynote Presenter Vern Long of World Coffee Research: