CHERRY BLOSSOM FESTIVAL LISTS 2023 VENUES, ANNOUNCES ANNUAL POSTER ARTWORK WINNER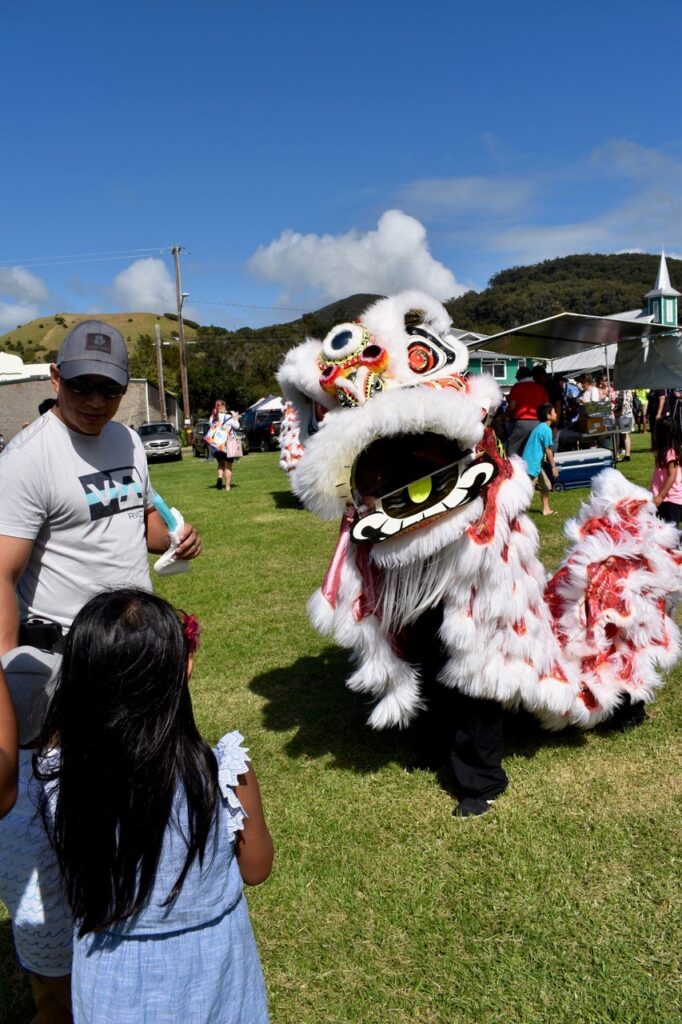 WAIMEA, HAWAII ISLAND— The 30th anniversary of the Waimea Cherry Blossom Heritage Festival has a full lineup of free, multi-cultural performing arts and hands-on demonstrations, plus a multitude of crafters and food booths 9 a.m.-3 p.m. Saturday, Feb. 4. Look for the new pink banners in town identifying festival venues.
The 2023 event artwork is "Mejiro and Cherry Blossoms" by Kona artist Laurel Oglesby. The pastel was the winning art among a field of 13 chosen by the festival committee. Depicting a bird locally seen flitting among cherry blossoms, the painting has been reproduced on a limited number of collector posters available for $10 at Waimea Arts Council's Firehouse Gallery.
Festival activities are at various venues stretching through the town's center—Roberts Hawaii offers free shuttle service between Parker Ranch Center, Church Row Park and Pukalani Stables. Parking is available at Parker Ranch Center, the soccer field across Church Row Park and along Pukalani Street.
The free handout, "2023 Festival Activity Lineup," will be available at all venues to guide festival goers among activities. In addition, a free 2023 Souvenir Program will also be distributed to showcase the many organizations that put on the festival.
Presented by the county's department of parks and recreation and community members, the festival marks the blooming of the historic cherry trees at Church Row Park and celebrates the age-old Japanese tradition of hanami, which translates to "cherry blossom viewing party." After a seasonal winter chill, the trees typically are blooming in early February.
   A quick rundown of festival activities at various locations follows (times are 9 a.m.-3 p.m. unless specified otherwise). Schedule and times are subject to change. Activities are free unless noted.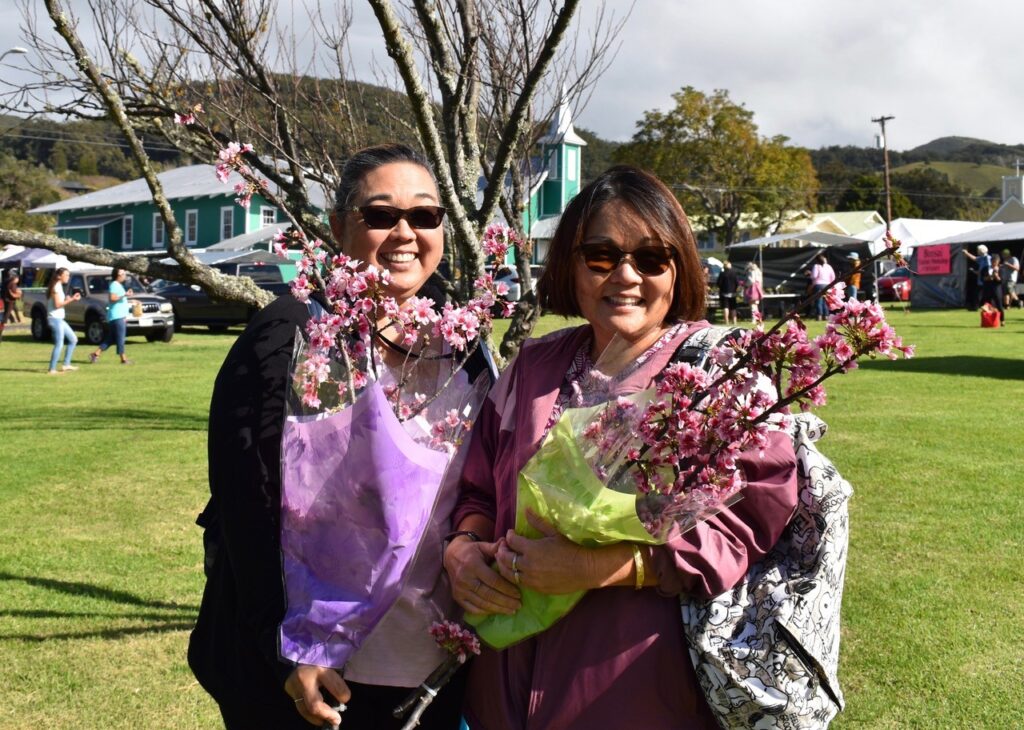 Church Row Park—Hwy. 19
• Historical Cherry Tree Display: Waimea Lions' Club offers a pictorial history of the cherry trees and serves as the festival's official Lost and Found station. T-shirt sales.
• Entertainment: Hula, taiko drumming, Chinese lion dance and more 9:30 a.m.-pau.
• Bonsai: The Waimea Bon-yu Kai Bonsai Club offers a display and sale of bonsai, ongoing demonstrations and a clinic to discuss and work on the art of bonsai.
• Cherry Tree/Food Sales at Kamuela Hongwanji: Mission members offer blooming cherry tree branches and tree sales, plus Asian foods: nishime bento, chichi mochi, andagi and chili/rice bowl.
• Cooking Demos at Kamuela Hongwanji: Hawai'i Island chefs offer cooking demonstrations with free samples on the hour 10 a.m.-1 p.m.
• Vegetable/Fruit Carving: Instruction for beginners 10 a.m.-2 p.m.
• Open House at Kamuela Hongwanji: Rev. Masanari Yamagishi explains Shin Buddhism rituals.
• Japanese Tea Ceremony: The Urasenke Hilo Association performs traditional chanoyu on the hour starting 9:30 a.m. with last ceremony at 1:30 p.m.
Parker Ranch Center—Hwy. 19
• Festival Entertainment Stage: In the Centerʻs back parking lot. 9 a.m. blessing opens festival with introduction of dignitaties including the Japan Consul General Yutaka Aoki. Entertainment until 3 p.m. features a join-in bon dance, Chinese lion dance, Darlene Ahuna, The Just Us Band, Grass Fed Longorns, Johnny Ness and the Rockness Monster,Taishoji Taiko and more. Also, entertainment throughout Center.
• Craft Fair: Over 50 crafters in back parking lot.
• Mochi Tsuki Pounding: Help pound mochi with members of the Kona Hongwanji Buddhist Temple outside the Fireside Food Court starting 10 a.m.; samples.
• Origami & Bon Dance: Learn the art of origami in the Fireside Food Court 11 a.m.-1 p.m, bon dance demo noon-1 p.m. near Graciela's Beauty Salon.
Mana Christian Ohana Church – (Former Kahilu Town Hall) Behind Parker Ranch Center
• Ka Hui Kapa Apana O Waimea Quilt Show: Also sales of quilt patterns, sewing novelties and craft fair.
Historic Spencer House – (Next to Waimea Center) Hwy. 19
• Japanese Collectibles: View a display of vintage kimono, obi and collection of kokeshi dolls, plus learn about the 1840 Spencer House.
Waimea Center – Hwy. 19
• KTA Super Stores Waimea: Food sampling till 1p.m.
• Waimea Center's Center Court: Darin Miyashiro performs koto, Kohala Taiko Drummers and Chinese lion dance.
Keck Observatory – Hwy. 19
• Telescope Viewing: See our nearest star, the Sun! West Hawaii Astronomy Club and Keck Observatory provides solar telescopes 10 a.m.-2 p.m.
Waimea Historic Corner—Hwys. 19/190 intersection
• Firehouse Gallery Activities: Waimea Arts Council presents "30th Annual Cherry Blossom Art Exhibition" with originals and prints for sale, including the new and past festival posters for $10. Hands-on cherry blossom art for all ages, materials provided, outside chalk drawing.
• Waimea Preservation Association Cottage: open house and fun on the 20-foot-square chess board 10 a.m.-2 p.m.
• Thelma Parker Memorial Public and School Library: Join the 2023 Cherry Blossom Tiny Art Show. Meet local artists and create your own tiny masterpiece, which will be displayed in the library's show; materials provided while supplies last.
Pukalani Stables – Pukalani Road
• Kamuela Farmers Market: Sales of local produce, goods and food booths. Chef demos 10:30 a.m.-1:30 p.m., lion dance 10:15 a.m., bon dance 11 a.m.
 The Waimea Cherry Blossom Heritage Festival is produced by the Hawaii County Parks and Recreation's Culture and Education Section. The festival is a community-wide effort by a dedicated team of volunteers, 808-961-8706.