Big Island Chocolate Festival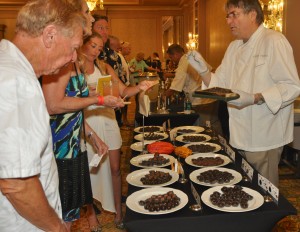 IT'S 'LAVALICIOUS' AT BIG ISLAND CHOCOLATE FESTIVAL GALA
KOHALA COAST, HAWAI'I ISLAND—It's a destination for delicious at the fifth Big Island Chocolate Festival gala 5:30-9 p.m. Sat., May 14 at Hapuna Beach Prince Hotel. Indulge in both savory and sweet temptations prepared by top chefs and chocolatiers while watching award-winning Chef Donald Wressell of Guittard Chocolate Company, sculpt one of the largest volcanoes ever created in fine chocolate.
This year's event theme is "Lavalicious-A Chocolate Salute to the 100th Birthday of Hawai'i Volcanoes National Park" and culinary stations will be judged on their depiction of the popular park, plus a host of "best" culinary categories: savory, plated dessert, bon bon, bean-to-bar, Hawaiian cacao and People's Choice.
More chocolatey fun includes a tasty mole and salad bar, chocolate body painting, live music and dancing, a silent auction, wines, cocktails and handcrafted beer using cacao nibs from Original Hawaiian Chocolate Factory.
Headlining the "erupting" entertainment is the Tomi Isobe Blues Band featuring Danny Taylor on drums and vocals. Also serenading guests will be Magic Strings with versatile violinist Ursula Vietze.
In addition to the Hapuna Beach and Guittard, culinary participants to date include the Mauna Kea Resort, Hualalai Resort, Hilton Waikoloa Village, The Fairmont Orchid, Hawai'i, Hilton Hawaiian Village, The Grand Wailea, Amici Ristorante Italiano, Art of the Good Life Catered Events, Huggo's/On the Rocks, The Fish Hopper, Sweet Eatz, Gypsea Gelato, West Hawai'i Culinary-Palamanui, Padovani Chocolates, Original Hawaiian Chocolate Factory, Madre Chocolate, Valrohna Chocolates, Republica del Cacao, Michel Cluizel Chocolatier and the Cocoa Outlet with its signature, four-foot tall chocolate fountain.
Six, off-island culinary professionals will judge the gala's delicious offerings. Coming from the Mainland are Alicia Boada, American Culinary Federation approved certification evaluator and Barry Callebaut technician, and Derek Poirier, award-winning Ecole Valrhona pastry chef Western USA.  Judges from Maui include chefs Bruce Troyet of Four Seasons Resort at Wailea, Maui; Elizabeth McDonald of B3 A Beach Bunny Bakery and Ricky DeBoer of The Fairmont, Kea Lani; and Lincoln Carson, formerly of Michael Mina's restaurants. Leading the Lavalicious booth judging will be Cindy Orlando, superintendent of Hawai'i Volcanoes National Park.  Prizes will be awarded at the gala, plus winners will be announced for the event's Friday college culinary competition.
General admission tickets to the gala are $75 presale $100 at the door.
Presented by the Kona Cacao Association (KCA), event proceeds benefit the ACF Kona Kohala Chefs Assn./University of Hawai'i endowment fund for the culinary program at Hawai'i Community College-Palamanui and programs at Kona Pacific Public Charter School in Kealakekua.
Find ticket info, plus details on the event's May 13-14 agricultural activities and culinary demonstrations, at www.BigIslandChocolateFestival.com. Special room/ticket packages for two start at $396.20 at the Hapuna Beach Prince Hotel and can be conveniently booked through the Festival website under "Tickets." Special room rates can be reserved directly at the hotel at www.HapunaBeachPrinceHotel.com/events or calling 1-888-977-4622 and mentioning "Big Island Chocolate Festival Group Rate."
The Big Island Chocolate Festival is presented by the Kona Cacao Association, Inc. The mission and goal of KCA is to promote the cacao industry on the Big Island of Hawai'i by presenting BICF as an educational and outreach opportunity for local cacao farmers, the hospitality industry and cacao enthusiasts. Mahalo to 2016 event sponsors Prova, Michel Cluizel, Republica Del Cacao, Valrohna USA, LUVA Real Estate-Lance Owens, Kona Auto Center, Dolphin Journeys, Original Hawaiian Chocolate Factory, Hawaii Community Federal Credit Union, Amoretti, Barry Callebaut USA, Kokua Roofing, DHX, Cocoa Outlet, Kona Brewing Company, Young's Market and The Wave 92 FM. For information, visit www.bigislandchocolatefestival.com. @BIChocoFest
Compliments of: Fern Gavelek Communications 808-329-0833 [email protected]