BIG ISLAND CHOCOLATE FESTIVAL DETAILS EDUCATIONAL FUN, GALA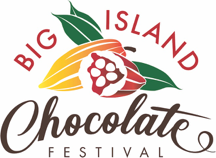 NEW TOUR AT HONOKA'A CHOCOLATE KICKS OFF ACTIVITIES
KOHALA COAST, HAWAI'I ISLAND—Leading up to the April 29th Big Island Chocolate Festival Gala are three days of fun, interactive activities. This year's Saturday night gala, "Indulge Your Senses with Chocolate," returns to its pre-COVID format with attendees visiting multiple culinary booths for tasty savory and sweet chocolate-inspired plates at the Waikoloa Beach Marriott Resort & Spa.
Gala guests can enjoy cacao-infused ale and flavored spritzers by Ola Brew, a variety of beers and hard seltzers by Kona Brewing Company, unlimited wine, plus a chocolate fountain. Entertainment opens with Doug Johnson on the jazzy vibraphone and continues with a dynamic performance by Kona Dance and Performing Arts, "The Human Experience." Fun includes People's Choice voting, a pop-up photo booth, silent auction and dancing to deejay Eric Ching of Lighting FX 808.
Educational Activities Detailed
Interactive fun kicks off 10 a.m. Thursday, April 27 for a farm and chocolate tasting tour at the award-winning Honoka'a Chocolate Company, $55 each or two for $90. This new tour location on the Hamakua Coast offers guests a guided visit in a cacao orchard and samplings of Honoka'a's product offerings. The rest of the activities are at the Waikoloa Beach Marriott Resort. Fun includes a pop-up photo booth and silent auction.
April 28 Farm Seminars: $40 for all three
• 1 p.m.: "Fermentation Process with Cacao" by Benjamin Fields, B.S. ethnobotany, who grew up on his family's nursery in windward O'ahu where he planted a cacao agroforest. He is founder of Mapele Fields, which processes cacao for 21 growers.
• 2:15 p.m.: "Maximizing Profits and Reach with Eco-tourism" is facilitated by Maddy Smith, founder of Barefoot Chocolatini, an eco-tourism company on the Hamakua Coast. After years of leading cacao tours and processing chocolate from bean to bar, the past president of the East Hawaii Cacao Association offers her expertise to budding new cacao farmers.
• 3:30 p.m.: "The Importance of Proper Tempering – Your Quality of Chocolate Depends on It" by Chef Stéphane Tréand, MOF of the prestigious Pastry School. Chef offers tips on tempering chocolate and crafting chocolate pieces for a sculpture that will be constructed during a Saturday noon demonstration. Tréand's Pastry School in California instructs students of all abilities in the pastry and baking arts.
April 29 Culinary Demonstrations $79 for all three
• 9:30-10:15 a.m. "Discover the Flavor Profiles of Chocolate – A Unique Chocolate Tasting" by pastry chef Alicia Boada, who leads the North American team for Max Felchlin AG, a producer of fine Grand Cru Swiss Chocolates and Couvertures, headquartered in Schwyz, Switzerland. Her vast chocolate knowledge often calls her to do worldwide chocolate training and sensorial seminars. Experience how to best use fine chocolate couvertures and learn about the long journey of the cacao bean from its growing region to Switzerland.
• 10:30 a.m.-Noon: "Creating an Artistic Chocolate Showpiece" by Chef Stéphane Tréand, MOF of California's Pastry School. Always a favorite activity at the festival, Chef demonstrates how to mold and color chocolate for structurally building an elaborate showpiece sculpture. The masterpiece will be on display during the festival gala.
• 12:15-1:45p.m. "How to Use Cacao Beans to Create Desserts & Sampling" by Chef Bruce Trouyet, executive pastry chef at Four Seasons Resort Lana'i and Koele Lodge. Hailing from France, Trouyet has served at top-rated hotels throughout the world, earning a Michelin star. Chef will explain how he makes chocolate from local cacao beans that is featured in a Macadamia Praline Tartlet with whipped ganache and crème brulee, which guests will get to sample.
All event tickets are sold online and additional tax and ticketing fees apply. General admission gala tickets are $99, with VIP tickets still available. The silent auction bidding opens online April 22 to benefit 2023 non-profit beneficiaries. Details: https://bigislandchocolatefestival.com.
Kona Cacao Association: The mission and goal of KCA is to promote the cacao industry on the Island of Hawai'i by presenting the Big Island Chocolate Festival as an educational and outreach opportunity for local cacao farmers, the hospitality industry and cacao enthusiasts. Visit http://konacacaoassociation.com. @BIChocoFest